Island Fin Poke wants you to get ready for Own Business Day, which arrives this coming October 12th.
What is Own Business Day? It's an annual commemoration or celebration of businesses and business owners who not only run their own businesses but put their hearts and souls into them. They LIVE their businesses, which is exactly what any dedicated and successful entrepreneur will tell you.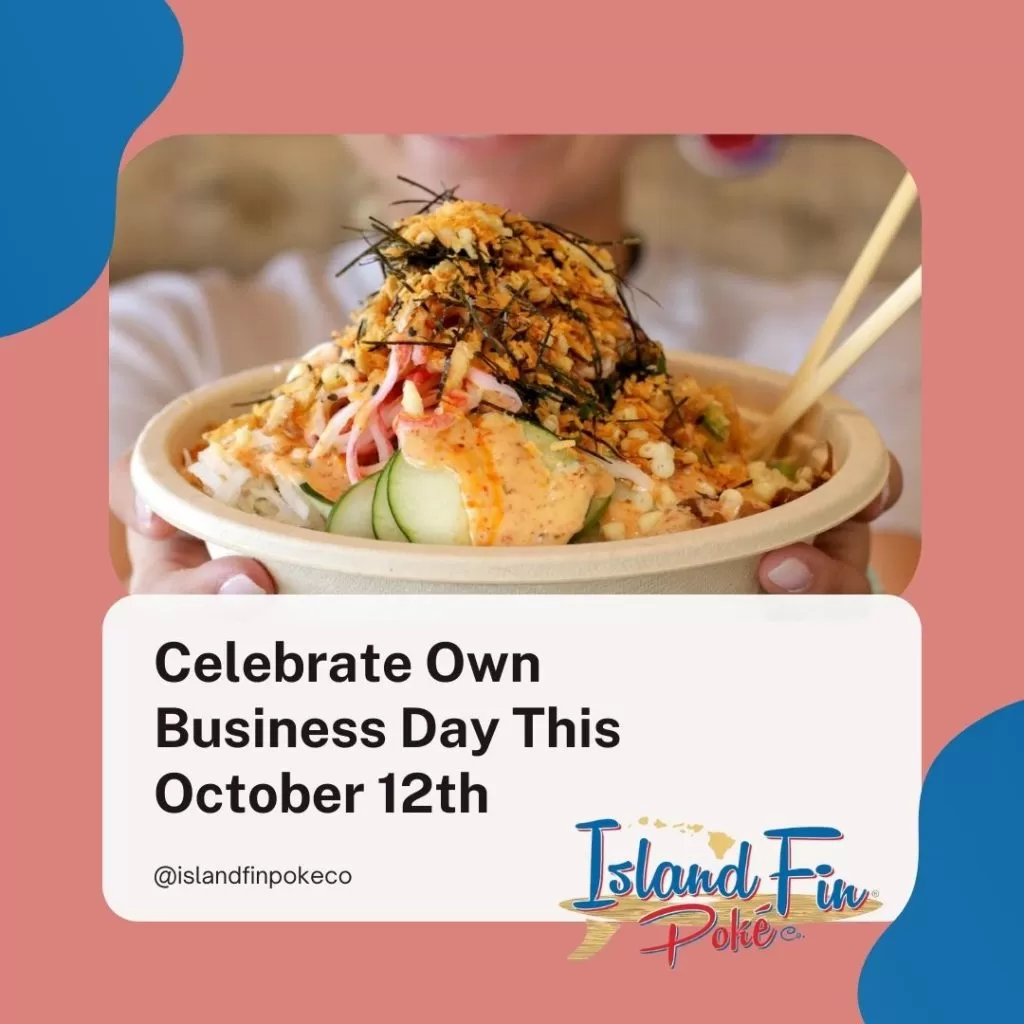 Own Business Day started in 2016 with 20,000 businesses participating in over 20 different countries. It's always done on the second Tuesday in October and businesses celebrate by offering great customer specials. Be on the lookout for the hashtag #loveownbusiness, which indicates participation in the Own Business specials.
This is a great time for us to recall the various reasons behind owning one's own business in the first place. Why would it be worth it to you to go to all the trouble? Why might it be better to franchise with an existing business model?
Rich Grossman, author of the Franchise Bible, has some great points regarding that in his article at entrepreneur.com . In it, he cites several benefits to collaborative business efforts:
Group advertising can be more lucrative than what's afforded to independent businesses
You can make your own day-to-day business decisions, all while enjoying the resources and guidance of a larger business enterprise
You can receive great training from pros in your industry
Experience a lower risk of failure and total losses than sticking it out on your own
Benefit from already well-known pre-existing service marks, patents, designs, and other trademarks
That's just a small sampling of the many cogent reasons to franchise a business. Basically, it comes down to owning your own business (as the October 12th commemoration helps us recall), but also taking advantage of the great business structures that are already available.
According to the U.S. Department of Commerce, franchised business accounts for a third of all retail sales in the U.S. It's not a fringe idea at all. Millions of Americans make this work.
If you're searching for the opportunity to franchise a business, Island Fin Poke Company would love to help you. We have a dedicated franchise development team as well as extensive training to get you started on owning your very own Island Fin Poke location! Call us at (702) 755-1258 to find out how to get started. You can also contact us by filling out this franchise inquiry form. We look forward to helping you join our family!