Have you ever dreamed of becoming a franchise owner, but you have always let the opportunity slip through your fingers because you can't face your fear? It's time you seized control of your hopes and dreams and make them a reality by moving ahead with your goal of purchasing an Island Fin Poke franchise.
Although owning a franchise is likely to be one of the most significant financial decisions you ever make, it could also be your most rewarding. Everyone feels fear, but those who overcome it can do genuinely remarkable things. Now is the time to bring your Island Fin Poke franchise dreams to fruition.
What You Need to Ask Yourself When Deciding to Buy A Franchise
When you need to make the decision of buying a franchise and your fears arise, ask yourself this question. Do I doubt myself and my want to own a franchise because I lack the adequate information to make an educated decision?
If you have doubts surrounding purchasing a franchise because you are not equipped with the information you need, this is easy to resolve. All you must do is determine what specific questions you have surrounding owning a franchise. Once you know the questions you have, you can seek out the answers you need.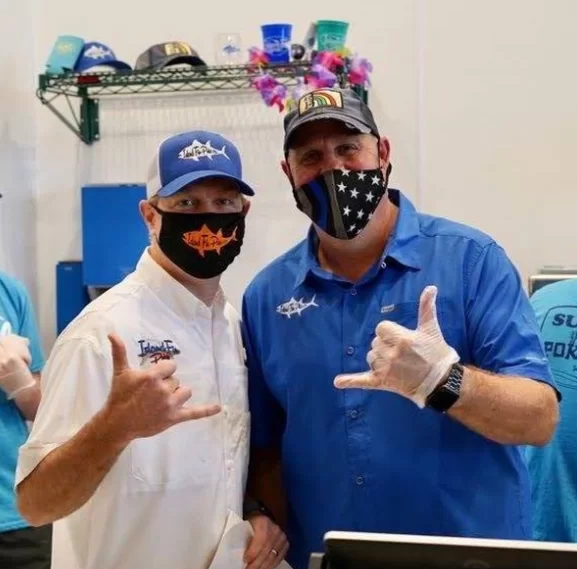 The Different Types of Fear Associated with Purchasing a Franchise
Below are some of the most frequently seen fears associated with purchasing a franchise. If you can face these fears and address them, you will undoubtedly be a successful franchise owner in no time whatsoever.
Financial Fears: Usually, financial fears play a vital role in whether you will decide to become a franchise owner. Owning a franchise is financially risky, which is likely why you are afraid of making the leap.
The Fear of Failure: The biggest fear you are likely experiencing when debating whether to buy a franchise is the fear of failure. This fear can make itself apparent during any stage of your franchise buying journey, but it most often strikes when you need to make the big yes or no decisions.
Transition Fears: A transition fear is one of the biggest fears to plague potential franchise owners as it's challenging to take on all the additional responsibilities required of being an owner. Yet, it's natural to fear making the move from employee to employer.
How to Face Your Fears and Franchise
Are you wondering how to face your fears so that you can own a franchise? Well, if you hope to purchase your own franchise, you need to realize that your fears can easily cause you to lose sight of your franchise goals.
One of the best ways to face your fears is to remember not to allow yourself to make no decision at all. Allowing yourself to be proactive and make decisions will ensure you and your franchise don't become stagnant. On the other hand, you should never let yourself be pushed into decisions you aren't wholly comfortable with.
Another way you can face your fears is by allowing yourself to feel them. Feeling your fears and accepting them will let you move forward and navigate the franchise investigation stages of your venture. If you don't address your fears while you feel them, you will run into trouble later. Therefore, never push them aside but instead challenge them with rational thinking, knowledge, and understanding.
Additionally, you need to face your fears by getting as much information about the franchise you are interested in as possible. You also need to consider your budget, commit to only purchasing a franchise you can afford, and ensure you take the time to learn everything you can about franchising.
If you're ready to finally face your fears and become a franchise owner, you should consider Island Fin Poke. Our franchise opportunities are some of the best in the business. We can work with you to help make your franchise ambitions a reality. You can contact us easily via our convenient online form or give us a call at 705-755-1258.