It's very common to assume that you always sacrifice the quality of your food whenever you pursue what many call a "fast food" option. While this is practically true with many restaurants in America, it's not always the case that healthy food automatically equates to "slow food." Island Fin Poke champions the idea of fast-casual dining, where we provide the healthiest Hawaiian-style seafood entrees carefully and expeditiously.
We Make Outstanding Healthy Meals Quickly
First, what do we mean by healthy? Our business values the use of only fresh and healthy ingredients that give children and adults the necessary macro/micronutrients to thrive. Here's a sample of some of our delicious menu items that satisfy the recommended daily allowance for clean carbs, protein, and healthy fats.
Seafood: Tuna, Shrimp, Salmon, Octopus
Other Base Items: White Rice, Brown Rice, Spring Mix
Veggies: Og Veggies, Pickled Veggies, Spicy Pickled Veggies
Fruits: Mango, Jalapeno, Cucumber, Pineapple, Coconut
Fresh Seasonings: Crispy Garlic, Chili Oil, Wanton, Sesame Seeds
Savory Sauces: Ono Ono, Wasabi, Avocado Cream, Togarashi
Premium Finishes: Avocado, Surimi, Macadamia Nuts, Masago
It's mouth-watering foods like these that make it into all of our various Poke dishes. These ingredients satisfy a wide range of diets, so whether you want to eat gluten-free, Keto, vegetarian, vegan, paleo, or nearly any other way, you can at Island Island Poke. You also have all the health facts and measurements right at your fingertips whenever you utilize our resourceful nutritional calculator.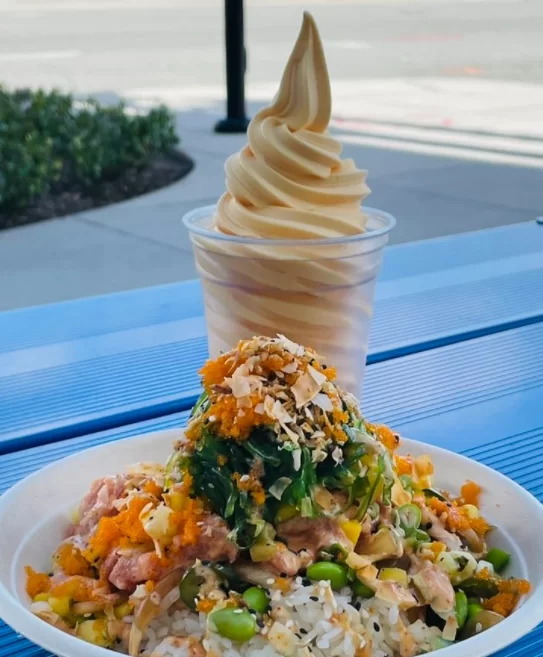 Next, we vouch to deliver these heart-healthy foods to you in the most expedient way possible. If you're really in a hurry and can't wait in line, you can pre-order plenty of Poke with our convenient online ordering systems, available at every Island Fin Poke location. Within 10 to 15 minutes of ordering, we'll have your lunch or dinner ready for you.
Even if you visit us in person, it only takes us a short time to prepare a nice meal right in front of you while you enjoy the pleasant ambiance of one of our restaurants. Our entire mission centers around quality, efficiency, and a great customer experience. We never sacrifice one for the others because it's simply unnecessary.
Island Fin Poke now has fast-casual Poke restaurants in 14 states with dozens of locations, coast to coast. We're happy to be able to reach so many Americans with freshly-prepared seafood options that you just can't find elsewhere. We don't believe in dogma that suggests fast food must be junk food. Come visit one of our shops today and let us prove this to you. Feel free to contact us at any time with any questions or concerns.